About ABC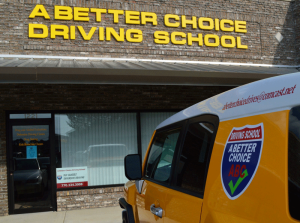 A Better Choice Driving School was opened with the belief that our customers' needs are our highest priority. We are committed to helping people get their lives back on track. We would welcome the opportunity to earn your trust and help you meet your driving goals.
We pledge to provide superior customer service, live our mission statement and earn your trust while guiding you through a realistic self-assessment of your choices.
We're here to help.
A Better Choice Mission Statement:
To provide an attractive, safe and confidential setting in which students can complete their course requirements
To offer students the opportunity to participate in life changing learning in a supportive, nonjudgmental and compassionate environment
To promote the creation of healthier lives within the community by empowering students with knowledge
Our Goal:
To get you back on the road again while consistently making low risk choices
---
WHY CHOOSE A BETTER CHOICE DRIVING SCHOOL?
All state certified schools charge the same amount. What makes us different?
Our staff is knowledgeable, friendly and confidential and we care about YOU
State of the art classrooms with wall mounted flat screen televisions
Locally owned and operated
Attractive and well maintained offices and classrooms
Friendly, non-intimidating and respectful teachers with 35+ years of experience
We are respectful, confidential and will work with you to get you what you need
No charge for transferring your assessment to a clinical evaluator (saves you $25.00)
We offer many services/classes under one roof
We are willing to work with you on scheduling and we offer after-hours assessments
Entertaining and interactive classes
Coffee & Tea available
Free Driver Improvement Insurance classes for Age 60+ paying only a workbook fee
Free out-of state reporting service, saving you $25.00
Free assistance in finding community service locations and affordable clinical evaluators